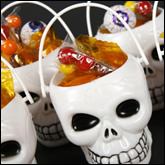 If you didn't have a chance yet to shop for halloween candies..take few minutes to check these great coupons before you head to the store..
Manufacturer Coupons
Updated:
$1.50 off any Mars Product (9.4 oz+) (new, click the "Food" category to find it, if it didn't show to you,then use this zip code: 34655). remember,

this Sunday and Monday at Walgreens with the coupon, you can score a bag of Mars candy for just $0.49!
$1/2 Wonka Fun Size Halloween Candy 10/16/2011 RP Insert (exp 10/31/2011)
$1/2 Nestle Fun Size Halloween Candy 10/16/2011 RP Insert (exp 10/31/2011)
$1.50/3 M&M or Mars Fun Size Candy 10/9/2011 RP Insert (exp 10/31/2011)
$1/2 Wonka Halloween Candy Fun Size (print limit reached – check your binders/folders)
$1.40/1 Nestle or Wonka Halloween Candy (print limit reached – check your binders/folders) gone
$1.50/1 Snickers, Milky Way, Twix, 3 Musketeers All You, Oct 2011 (exp 10/31/2011)
$1/3 Hershey's Candy Snack Size Bags 9/25/2011 SS Insert (exp 12/31/2011)
$1/3 M&M's Fun Size Chocolate Candy 9/25/2011 RP Insert (exp 10/31/2011)
$1 M&M's (you can also get a $1 coupon from the red machine in CVS this week)
Happy halloweeeeeeeeeeeeen